NEWYou can now listen to Fox News articles!
The FBI arrested Michigan Republican gubernatorial candidate Ryan Kelley Thursday. 
FBI agents executed search and arrest warrants at his home in Allendale, near Grand Rapids, and took Kelley into custody, a spokeswoman for FBI Detroit, initially confirmed to Fox News Digital. 
Kelley, 40, of Allendale, Michigan, was arrested Thursday morning on misdemeanor charges stemming from the Jan. 6, 2021, Capitol breach, FBI Detroit spokeswoman Mara R. Schneider said in an update. 
He was arrested in Allendale and is to make his initial appearance Thursday afternoon in the U.S. District Court for the Western District of Michigan. Because this is a pending case, the U.S. Attorney's Office for the District of Columbia has no further comment at this time, Schneider added. 
MICHIGAN SOARING GAS PRICES FORCES SHERIFF TO CUT NON-URGENT CALL RESPONSE, DEPUTIES WORK BY PHONE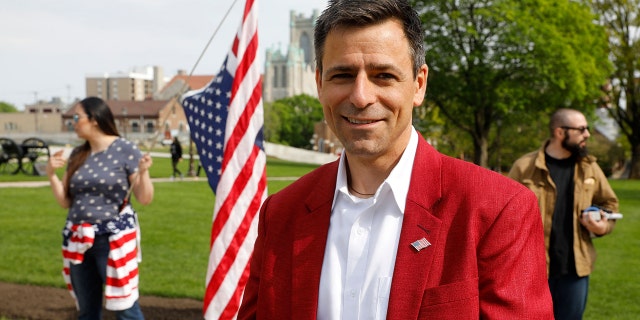 Ryan Kelly, Republication candidate for Governor, attends a Freedom Rally in support of First Amendment rights and to protest against Governor Gretchen Whitmer, outside the Michigan State Capitol in Lansing, Michigan on May 15, 2021. 
((Photo by JEFF KOWALSKY / AFP) (Photo by JEFF KOWALSKY/AFP via Getty Images))
Kelley is charged 17 months after the Jan. 6 riot and on the same day the House committee investigating the Jan. 6 attack on the U.S. Capitol is to hold a primetime hearing Thursday to present never-seen video, new audio and a mass of evidence following a year-long investigation by the select panel. 
The criminal complaint obtained by Fox News Digital charged Kelley with: knowingly entering or remaining in any restricted building or grounds without lawful authority; disorderly and disruptive conduct in a restricted building or grounds; knowingly engaging in any act of physical violence against person or property in any restricted building or grounds; willfully injure or commit any depredation against any property of the United States. All are misdemeanor offenses. 
A copy of the affidavit obtained by Fox News Digital says the FBI received multiple tips regarding Kelley's presence at the U.S. Capitol in Washington, D.C., on Jan. 6, 2021.
JAN. 6 COMMITTEE AIMS TO SHOW 'TRUMP WAS AT THE CENTER' OF PLOT TO OVERTURN ELECTION WITH PRIMETIME HEARING 
It included multiple photos and videos of a man believed to be Kelley wearing a black coat, aviator sunglasses and backwards black baseball cap among a group of people gathered near the entrance to the Northwestern scaffolding on the Western side of the U.S. Capitol. 
The affidavit says Kelley uses his phone to film the crowd assaulting and pushing past U.S. Capitol police officers and rushing up through the scaffolding and up the steps to the Capitol. The man believed to be Kelley is seen on top of the scaffolding waving for the crowd to head toward the building. 
He eventually reached the U.S. Capitol's North West Courtyard, but it's unclear from the affidavit if he entered the interior of the building. The affidavit notes that Kelley wore similar attire at a November 2020 rally at the state capitol in Lansing, Michigan, where he delivered a speech. 
"Covid-19 was made so that they can use the propaganda to control your minds so that you think, if you watch the media, that Joe Biden won this election. We're not going to buy it," he said, according to the affidavit. "We're going to stand and fight for America, for Donald Trump. We're not going to let the Democrats steal this election."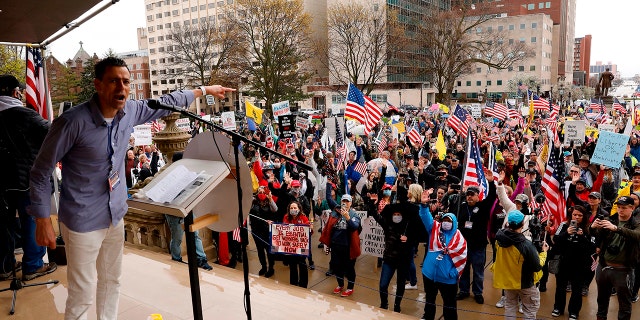 Ryan Kelley, a protest organizer, for the  American Patriot Rally organized by the Michigan United for Liberty for the reopening of businesses stands on the steps of the Michigan State Capitol in Lansing, Michigan on April 30, 2020. 
((Photo by JEFF KOWALSKY/AFP via Getty Images))
The owner of a real estate firm and co-founder of the American Patriot Council, Kelley led large rallies at the state capitol in Lansing and Grand Rapids protesting the statewide COVID-19 lockdowns and mandates enforced by Democratic Gov. Gretchen Whitmer, according to his campaign website. 
CLICK HERE TO GET THE FOX NEWS APP
His campaign bio also noted that Kelley, exercising his Second Amendment rights, "guarded a Civil War Statue in his hometown of Allendale as it was threatened to be taken down by BLM and Antifa" during 2020 riots after George Floyd's killing. 
Danielle Wallace is a reporter for Fox News Digital covering politics, crime, police and more. Story tips can be sent to danielle.wallace@fox.com and on Twitter: @danimwallace.